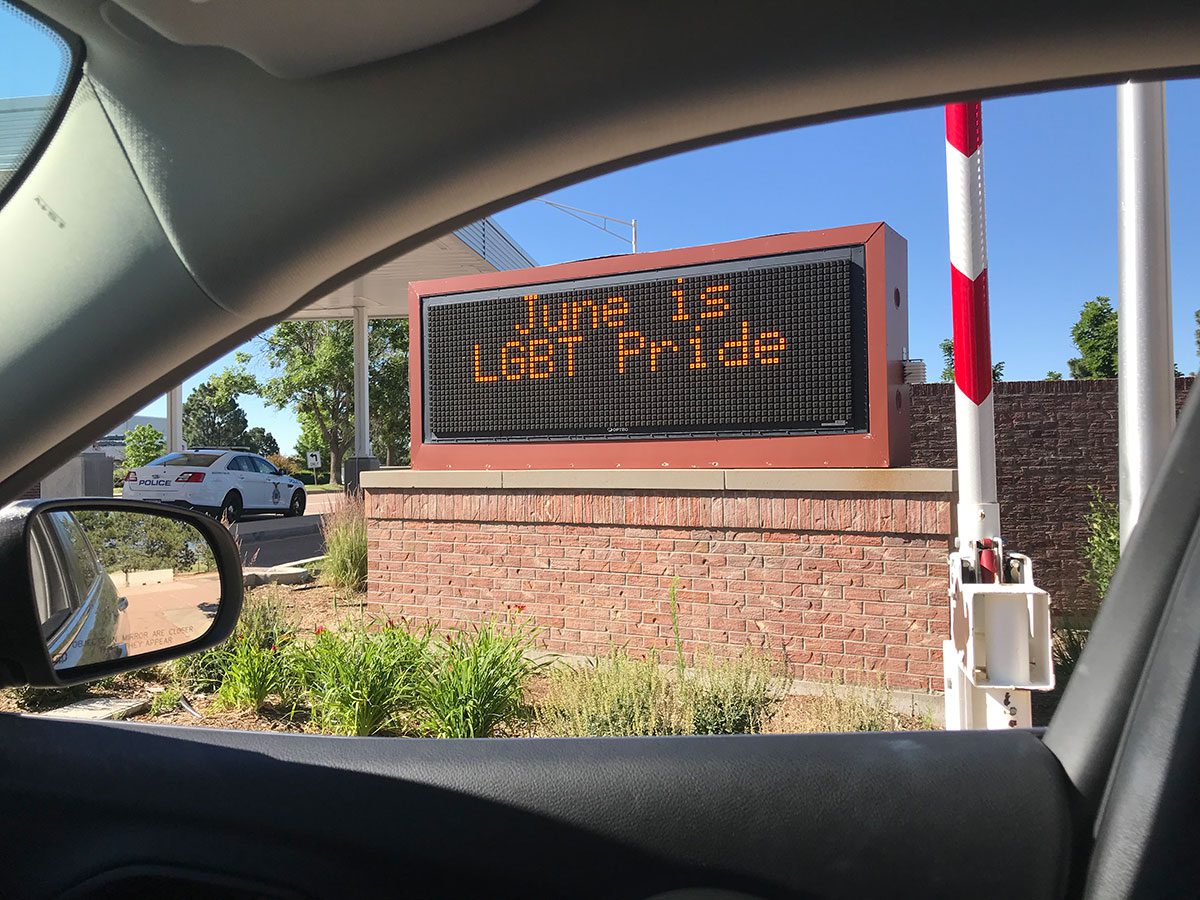 A couple of years ago, when I served a Unitarian Universalist church in Colorado Springs, CO, I drove out to Peterson Air Force Base to attend a Clergy Day the base Chaplain's office was hosting. It was a great event. I met the chaplains at Peterson, as well as other local clergy. The Wing Commander also spoke to our group about the mission of Peterson, and we saw a K-9 unit demonstration. Plus, the food was fabulous!
But the most powerful moment occurred when I first went on base. Unsure of which gate to use, I went to the main one, only to be told that visitors entered through the west gate. The airman at the gate instructed me to pull over into the adjacent parking lot and wait for another guard to return my driver's license.
As I did this, I noticed a large sign flashing Welcome to Peterson Air Force Base! Then the message changed to proclaim: June is LGBT Pride Month!
I was blown away! I I knew that that queer folks could now serve openly, but I didn't think they'd be welcomed so enthusiastically.
I became verklempt as I thought back over the past 40 years.
I came out as a lesbian in 1978 when I was 16 years old; in Topeka, KS.  I was ecstatic! I'd found my people. Not everyone was as happy as I was about this revelation. I got kicked out of my home when I was a senior in high school and shortly after graduation, I joined the USAF as a way to get stability. This was in 1980, well before Don't Ask, Don't Tell.
That's why that flashing messaged moved me so. Forty years later, my right to serve was acknowledged. Forty years later, I received the welcome I didn't get then.
I remember my dread of discovery in Basic Training at Lackland AFB as my Training Instructor went meticulously through my wallet during a security inspection, knowing that he would come across my membership to the NGTF (National Gay Task Force, now called National Gay and Lesbian Task Force) and my membership card to the only gay bar in Topeka: The Lambda! Exclusively Serving the Gay and Lesbian Community! Both these cards would be enough to have me questioned at least, with the specter of a less than honorable discharge a real possibility. Amazingly, he didn't call me out on it. But I still felt that dread the duration of basic training, waiting for that moment when I was exposed.
At my permanent duty station, the now-defunct Castle AFB in Atwater, CA, I watched as friends were discharged based on rumors of homosexuality. I saw couples in committed relationships, both active duty, who were separated when one was sent to another base, not having the freedom to request they be sent to the same base, as is the right of married couples.
Queer folk have always served our country, just not openly. LGBTQ folks have fought and died for this country, some leaving widows with no access to survivor benefits. Many have successfully navigated a military career, while hiding their true identities, retiring after 20+ years. I loved being in the Air Force; serving my country, but I left after my enlistment was up. It was too stressful having to hide.
That's why that flashing messaged moved me so. Forty years later, my right to serve was acknowledged. Forty years later, I received the welcome I didn't get then. Now we no longer have to hide, and the military is better for it, better for the sacrifice and service queer soldiers also give to our country. No wonder they celebrate Pride Month; our diversity is our greatest strength. I took a picture of the sign, then headed for the west gate with my head held high.