Ethics Unplugged: 'Pleasure to Last a Lifetime' with Melanie Davis (Online)
June 14 @ 7:00 pm

-

8:00 pm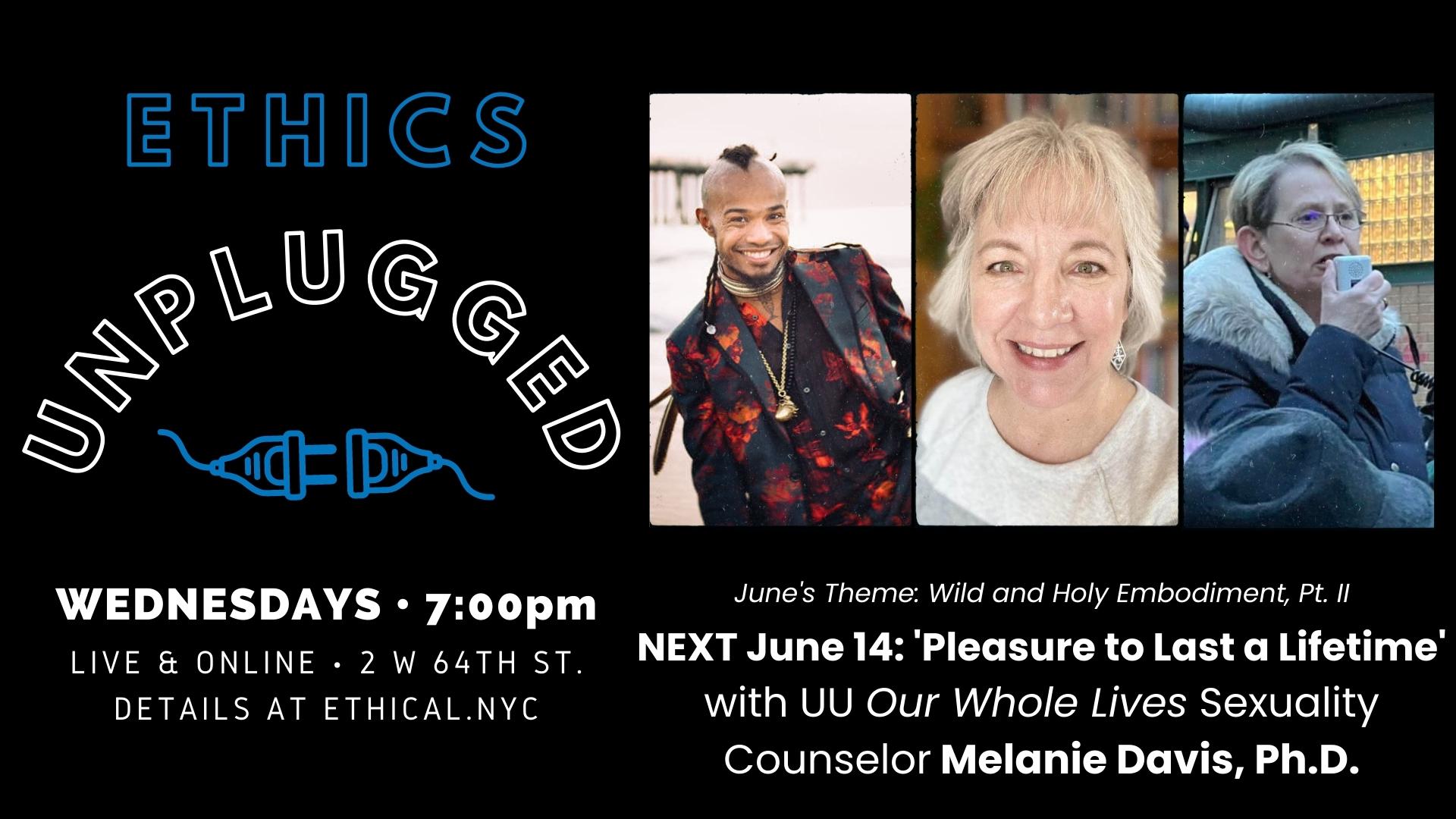 Notice: This week's session will be online-only.
Often people think sexual activity ends when a person reaches a certain age, but nothing could be further from the truth! In this Ethics Unplugged session we'LL be joined by Melanie Davis, director of the UUA's Our Whole Lives program. OWL is a lifelong sexuality education curriculum with age-appropriate lessons spanning from pre-K to older adults.
Melanie will discuss some of the curriculum of OWL for Older Adults, which addresses:
Sexuality and Values
Attitudes about Aging
Dating as an Older Adult
Body Image
Safer Sex
Disability, and Chronic Illness
Examining Sexual Scripts
The Sexual Body
Sexual Orientation and Gender Identity
Intimacy
Sexual Consent and Boundaries
Family Matters
Sexuality and Loss
Reframing Sexuality
Sex Play Beyond Basics
And more!
In addition, I encourage you to read this article about sex after 70 from the New York Times. If you need a PDF Copy, reach out to Dr. Rost.
ABOUT MELANIE DAVIS, PHD, CSC, CSE, CSES
Melanie earned certification as a sexuality counselor and educator through the American Association of Sexuality Educators, Counselors and Therapists (AASECT) and consults privately with individuals and couples at the New Jersey Center for Sexual Wellness, which she co-founded in 2009. She is an AASECT-certified supervisor for individuals seeking to become certified sexuality educators, and was named the 2022 AASECT Sexuality Educator of the Year.
Melanie provides professional development and presentations for physicians, nurses, medical students, long-term care professionals, educators, and clergy. She does a significant amount of training through her position as the Our Whole Lives Sexuality Education Program Manager for the Unitarian Universalist Association, as well.
She is the co-president and founding member of the Sexuality and Aging Consortium at Widener University, and she founded SaferSex4Seniors.org, an educational site for sexually active and/or interested adults in mid- and older age.
In every area of her work, Melanie approaches sexuality as a positive part of life that should be treated with respect, care, integrity, celebration, and humor throughout the lifespan. She is committed to providing services and resources that are anti-racist, anti-oppressive, and inclusive. Visit her online at melaniedavisphd.com.
JUNE'S THEME: WILD AND HOLY EMBODIMENT, PT. II
As we head into our final month of our Ethics Unplugged experiment we will continue to focus on embodied pleasure. The conversations through May have been deeply personal, theoretical, and just down right juicy! We couldn't cover all the topics we wanted to, so we're extending the theme. Living ethically is always an embodied experience, but sometimes we Ethical Humanists tend to get stuck in our head and forget we even have a body!
This month we'll explore embodied movement, talk about sex in our elder years, and explore how rest can be resistance. As always, we will bring the hermeneutics of ethics to these conversations, remembering there is an ethical practice in the most radical spaces to engage the most revolutionary acts of pleasure.
The first three weeks will be Zoom webinars only, to accommodate our guest speakers, but join us live and in person on June 22nd to celebrate the wrap-up of a great experiment! People who attend in person will be given a special gift to help you love and appreciate your beautiful, strong, tender, capable bodies!
Watch Online! Click to Join at Start | Zoom ID 864 8703 7420
Free and open to the public!
COVID-19 Notice: Masks are optional but strongly encouraged.
Join Society Leaders Nori Rost and Jé Hooper for Ethics Unplugged, an exciting reimagining of Ethical Culture, every Wednesday at 7:00pm.